Product Introduction
(1) Common cathode energy-saving. Common cathode, an energy-saving power supply technology for LED display, can effectively solve the problem of high temperature and power consumption of the common positive circuit screen body. The average temperature of the screen body of common negative circuit is 14.6℃ lower than the traditional common positive circuit, and the power consumption is reduced by more than 20%. (2) Four-level energy-saving technology. Level I Dynamic Energy-saving: When the signal is not displayed, the part of the drive circuit of the constant flow tube chip is turned off; Level Ⅱ Black Screen Energy-saving: When the display screen is completely black, the static consumption current of the chip drops from 6mA to 0.6mA; Level III Full-screen Energy-saving: When the low level is maintained for 300ms, the static consumption current of the chip drops from 6mA to 0.5mA; Level Ⅳ Shunt Power Supply Step-down Energy-saving: The current first passes through the lamp bead, and then to the negative electrode of the IC, so that the forward voltage drop becomes smaller, and the conduction internal resistance also becomes smaller. (3) Stable and high protection. Outdoor application products, IP66 protection grade, integrated all-aluminum design, corrosion resistance, high melting point, flame retardant and fire resistant, moisture resistant and salt spray resistant, etc., working temperature -40℃-80℃, can operate normally in the seaside environment for a long time, with excellent environmental adaptability and outdoor all-weather work. (4) Stable and reliable performance. Ultra-low temperature rise, low power consumption, low attenuation, plus the aluminum module itself has good thermal conductivity, so that the whole screen has better heat dissipation, no need to install air conditioning, high reliability and long service life.
Structure Appearance
Exterior View-profile Aluminum Case (960*960*90mm)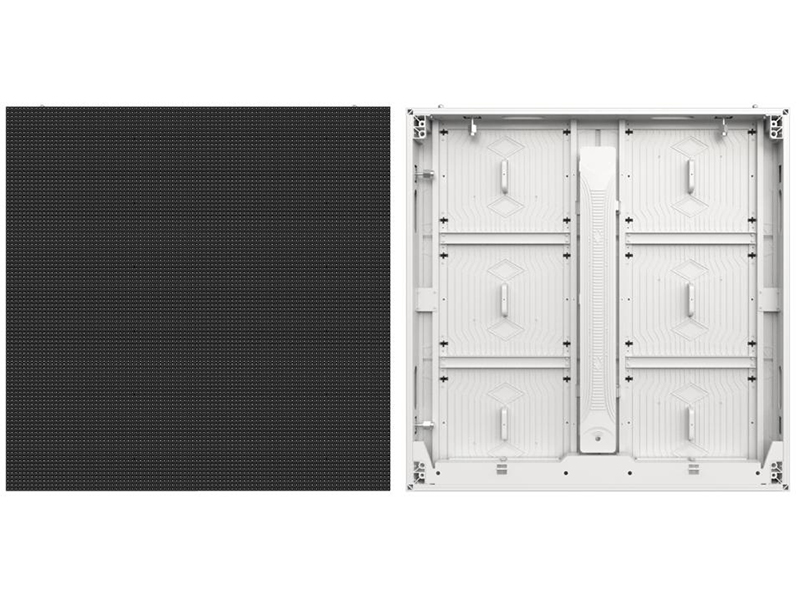 Detailed Parameters
Model Number

AF4.4

AF5.7

AF6.6

AF10

Parameter Name

P4.4

P5.7

P6.6

P10

Pixel Structure (SMD)

1921

2727

2727

3535

Pixel Pitch

4.4mm

5.7mm

6.67mm

10mm

Module Resolution (W×H)

108*72

84*56

72*48

48*32

Module Size (mm)

480*320*15

480*320*15

480*320*17

480*320*17

Module Weight (Kg)

2

2

2

2

Cabinet Module Composition

2*3

2*3

2*3

2*3

Cabinet Size (mm)

960*960*90

960*960*92

Cabinet Resolution (W×H)

216*216

168*168

144*144

96*96

Cabinet Area (m²)

0.92

Case Weight (Kg)

24.5

Cabinet Material

Die-cast Aluminum (module), Profile Aluminum (cabinet)

Pixel Density (dots/m²)

50625

30625

22500

10000

IP Rating

IP66

Single-point Chromaticity /Brightness Correction

With

White Balance Brightness (cd/m²)

5000

5500

7500

7500

Color Temperature (K)

6500-9000

Viewing Angle (Horizontal/Vertical)

140°/120°

Contrast Ratio

8000:01:00

17000:1

17000:1

18000:1

Maximum Power Consumption (W/m²)

500

500

500

500

Average Power Consumption (W/m²)

168

168

168

168

Maintenance Method

Front/Rear Maintenance

Frame Rate

50&60Hz

Scanning Mode

 (Constant Current Drive)

1/9s

1/7s

1/6s

1/2s

Gray Scale

Arbitrary within 65536 levels of gray(16bit)

Refresh Frequency  (Hz)

3840

Color Processing Bits

16bit

Lifespan (h)

50,000

Operating Temperature /Humidity Range

-10℃-50℃/10%RH-98%RH(No Condensation)

Storage Temperature

/Humidity Range

-20℃-60℃/10%RH-98%RH(No Condensation)
Packing List
| | | |
| --- | --- | --- |
| Packing Parts | Quantity | Unit |
| Display | 1 | Set |
| Instruction Manual | 1 | Portion |
| Certificate of Conformity | 1 | Portion |
| Warranty Card | 1 | Portion |
| Construction Notes | 1 | Portion |
Accessories
Accessory Category

Name

Pictures

Assembling Accessories

Power cord, signal cord,

U-shaped sub cord

 

Box connection cable line,

network cable

Sleeve, screw connection piece

 
External View-module(480*320*15mm)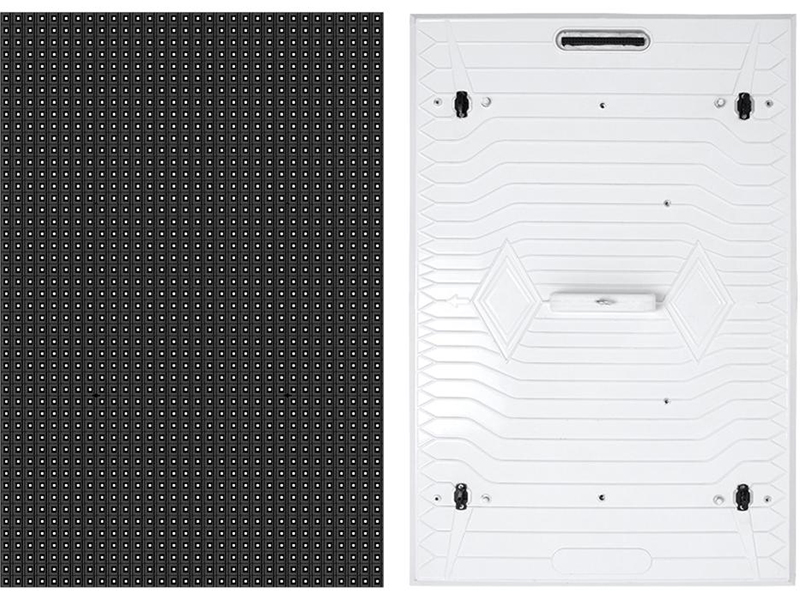 Installation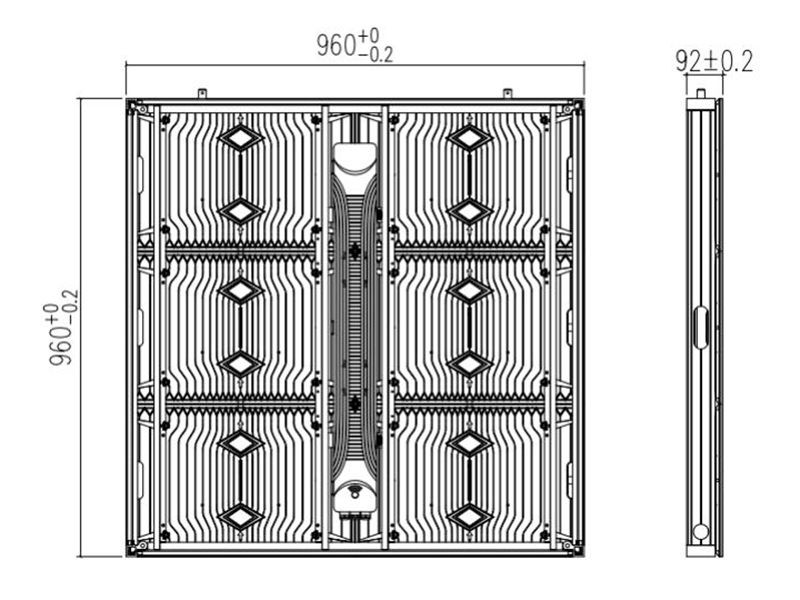 Cabinet Installation
Cabinet Installation Diagram
Kit Installation
Kit Mounting Hole Diagram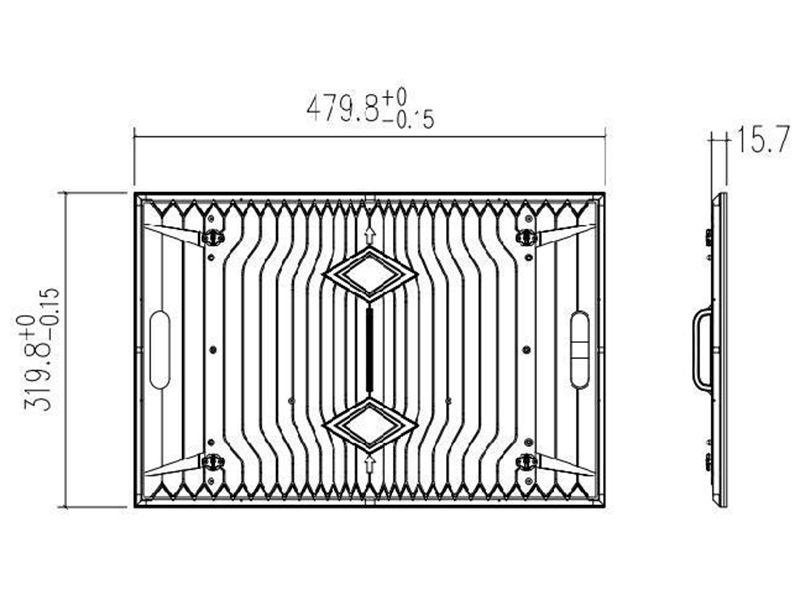 Box Installation
Exploded View of Box Installation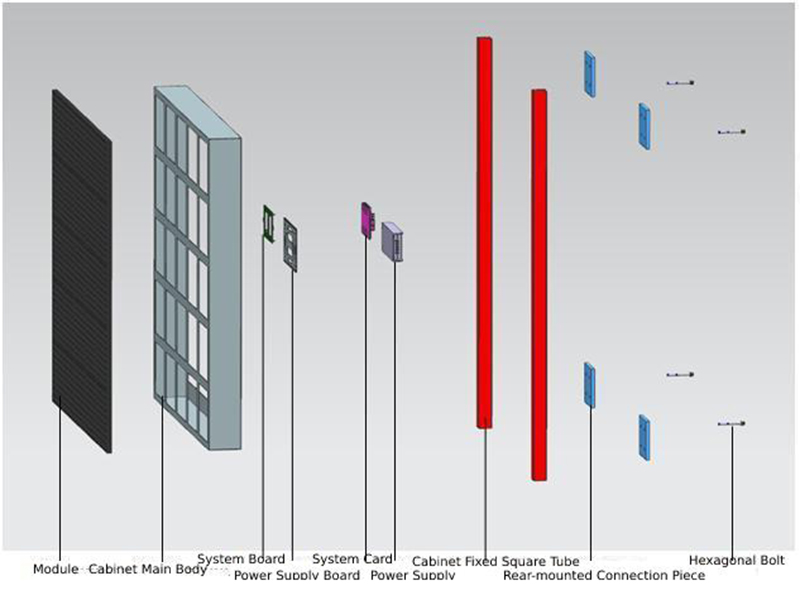 Box Installation Completion Diagram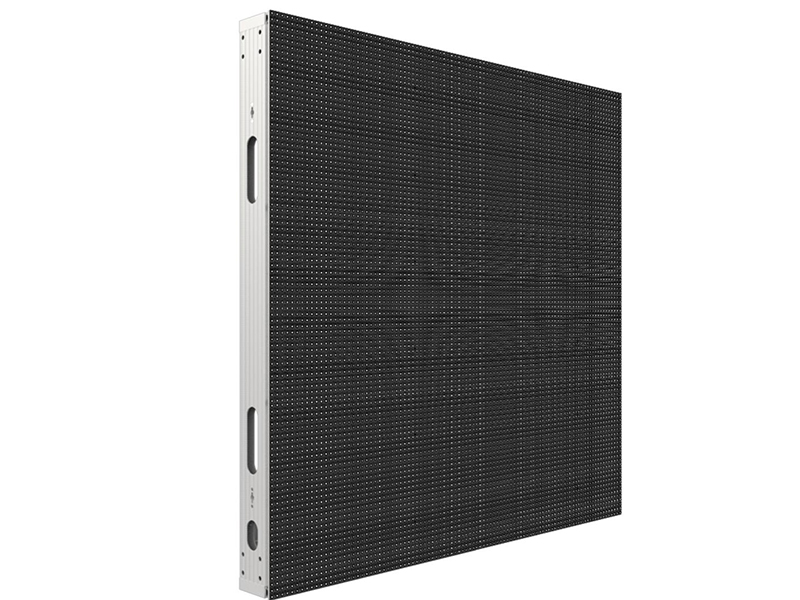 Display Installation
Connection Schematic
Display Connection Diagram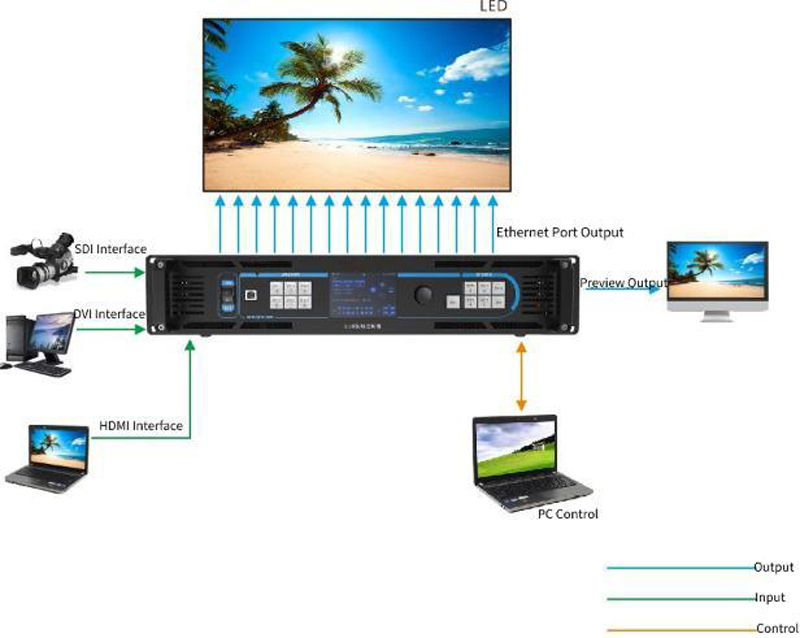 Features Description
New Ventilation Valve Outdoor common shade energy-saving series LED display, in the bottom of the power box added a new ventilation valve, can adjust the internal air pressure, recoil temperature rise, balance the internal environment.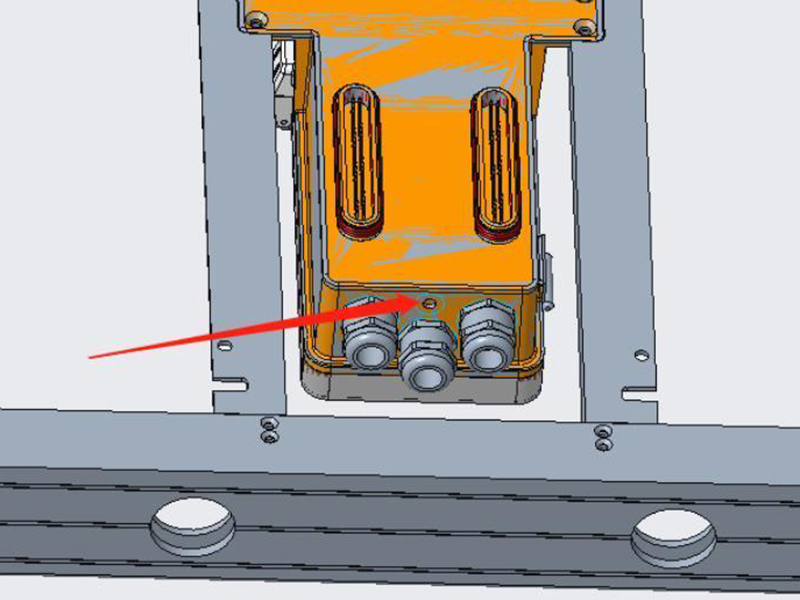 Structural Hard-wired, Wireless Throughout The product structure is hard-wired, wireless throughout, and has a neat and beautiful appearance.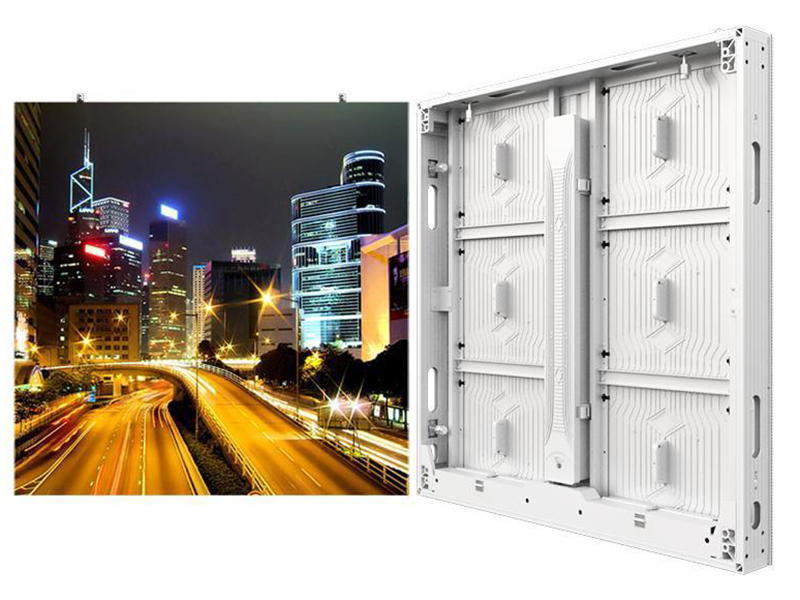 Profile Cabinet, Light Weight, Safe and Reliable, Not Easy to Deformation Outdoor common shade energy-saving series LED display adopts profile box, a single box only weighs 24.5KG, the module is die-casting aluminum module, flame retardant and fireproof, not easy to deformation under high temperature conditions.
Usage Instructions
Precaution
Projects

Cautions

Temperature Range

Working temperature control at -10℃~50℃

Storage temperature control at -20℃~60℃

Humidity Range

Working humidity control at 10%RH~98%RH

Storage humidity control at 10%RH~98%RH

Waterproof

High protection level for outdoor products, IP66

Dustproof

High protection level for outdoor products, IP66

Anti-electromagnetic Radiation

The display should not be placed in an environment with high electromagnetic radiation interference, which may cause abnormal screen display.

Anti-static

Power supply, box, screen body metal shell needs to be well grounded, grounding resistance <10Ω, to avoid damage to electronic devices caused by static electricity
Instructions for Use
Projects

Instructions for use

Static Protection

Installers need to wear static rings and static gloves, and the tools need to be strictly grounded during the assembly process.

Connection Method

The module has positive and negative silkscreen markings, which cannot be reversed, and it is strictly forbidden to access 220V AC power.

Operation Method

It is strictly forbidden to assemble the module, case, the whole screen under the condition of power on, need to operate in the case of complete power failure to protect personal safety; display in the light prohibit personnel to touch, so as to avoid electrostatic breakdown of LED and components generated by human friction.

Disassembly and Transportation

Do not drop, push, squeeze or press the module, prevent the module from falling and bumping, so as not to break the kit, damage the lamp beads and other problems.

Environmental Inspection

The display site needs to be configured with a temperature and humidity meter to monitor the environment around the screen, in order to find out in time whether the display has moisture, moisture and other problems.

Use of Display Screens

Ambient humidity in the range of 10%RH ~ 65%RH, it is recommended to open the screen once a day, each time the normal use of more than 4 hours to remove the moisture of the display.

When the environmental humidity is above 65%RH, the environment needs to be dehumidified, and it is recommended to use normally for more than 8 hours a day and close the doors and windows to prevent the display from being caused by moisture.

When the display has not been used for a long time, the display needs to be preheated and dehumidified before use to avoid moisture caused by bad lamps, the specific way: 20% brightness light 2 hours, 40% brightness light 2 hours, 60% brightness light 2 hours, 80% brightness light 2 hours, 100% brightness light 2 hours, so that the brightness incremental aging.
Applications
Suitable for all kinds of building facade advertising, airport station advertising, government cultural advertising, highway upright advertising, etc.